Recruiting –
find the right candidates with KÖNIGSTEINER
As one of Germany's largest and most experienced personnel marketing agencies, KÖNIGSTEINER delivers a complete recruiting and personnel marketing solution from a single source.
As one of Germany's largest and most experienced personnel marketing agencies, KÖNIGSTEINER delivers a complete recruiting and personnel marketing solution from a single source.
We support you across all channels and measures – always personal, human, and on equal terms. We assist you with the full handling and management of ad placement, help you choose the right media, and post your job advertisements on suitable platforms. In addition, we take over the reporting for you and adapt your ads if necessary in case of low performance. This leaves you to concentrate fully on your HR mission.
We also stand by your side when it comes to optimizing your texts and layouts, taking into consideration current rules for job portals. We collaborate with you to steer and optimize the recruiting campaigns to deliver the best possible result and find the right candidates for your vacant positions.
We boost your recruiting with these services
Media planning
We offer the right package for everyone, from media recommendation all the way to media planning. We support you with "minor" media planning, delivering comprehensive consulting as a neutral agency with the goal of filling your job vacancies quickly (time-to-hire) and cost-effectively (cost-to-hire). The channel effectiveness of the recruiting channels used plays an important role for us in our consultation.
With our "major" media planning we support you in more than just filling individual positions: We think bigger. Launch an apprentice campaign for different skilled occupations? No problem! We support you and develop a cost-effective media plan over the entire duration of the campaign and also take over handling the entire process with the service providers.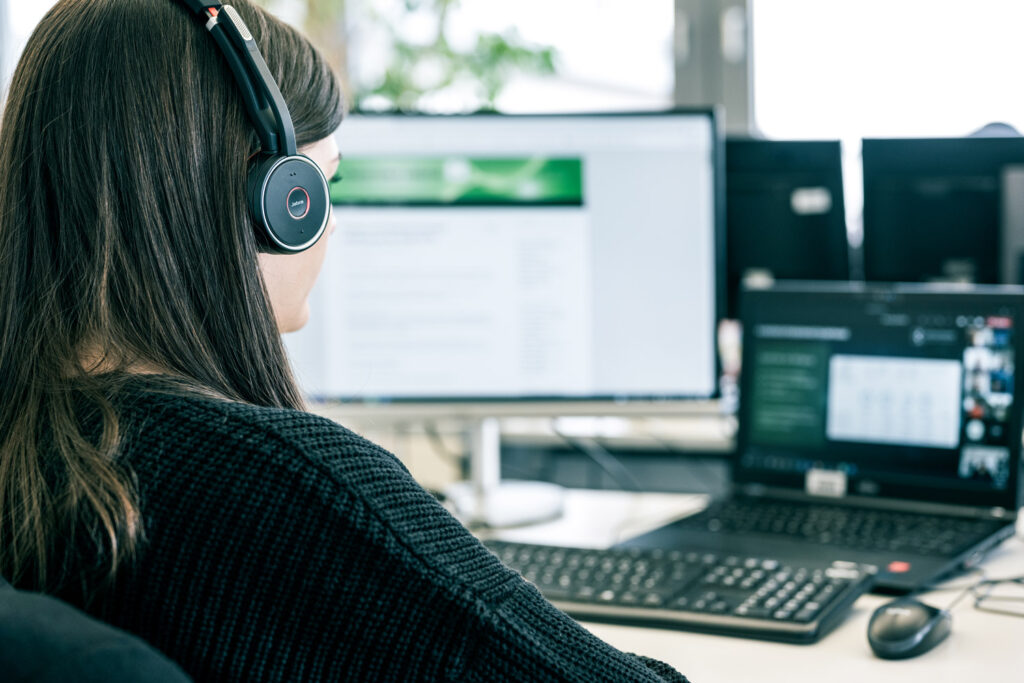 Interfaces
We integrate your applicant tracking system (ATS) via an interface to take your everyday business off your plate and enable you to use the freed-up capacity for your next big HR mission. Moreover, automated applicant management processes also lead to faster recruiting success.
How does a customer interface add value?
It's fast: With an interface connection to your ATS, your job advertisement is just a click away from us. If your ATS provides posting orders, we can implement them directly.
It's easy: You only need to make changes to existing job advertisements in your ATS. Thanks to the interface, we automatically see every change and know what to do.
It ensures high quality: The connection makes sure no information is lost through media interruptions.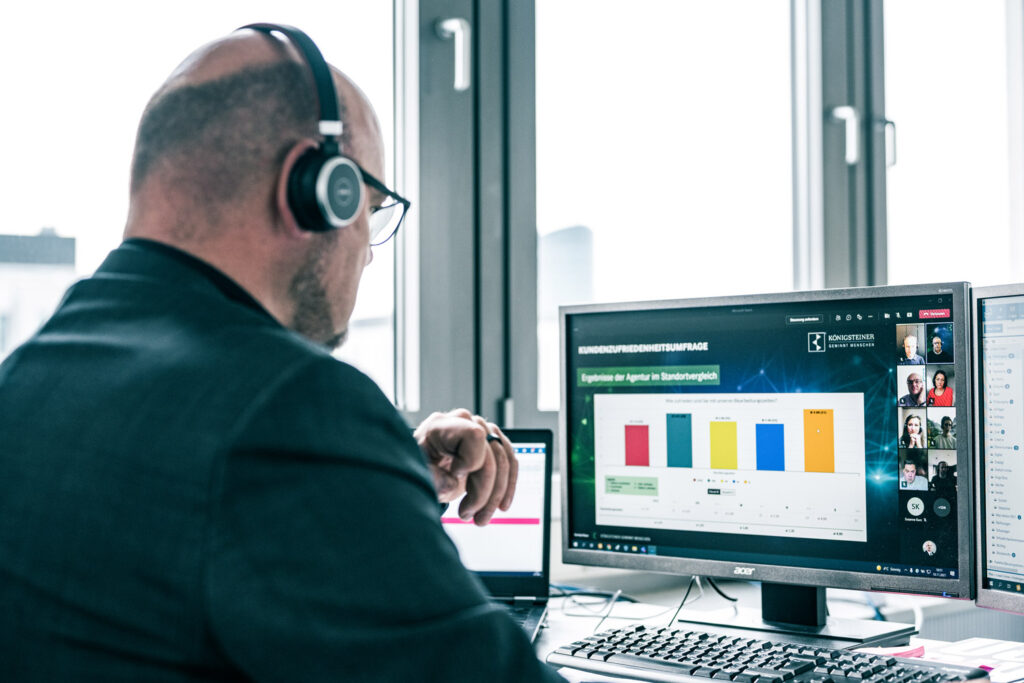 Quality assurance
We use professional processes in media design, text formulation, and creating job advertisements to ensure that your job ads are reliable, well-edited, and quick to reach both active searchers and inactive candidates. That's how we support you in finding qualified applicants and suitable employees for your open job positions.
We write success stories with our clients.
"We've worked closely and confidently with the KÖNIGSTEINER AGENCY for many years and are very satisfied with their reliable, competent support and consulting in our recruiting process. We especially value their flexibility and the short, personal, and simple communication paths. We're certain that our partnership will go on for a long time to come and that we will successfully fill many more jobs together."
Nadin Noack
Director Human Resources & Organizational Development, MADELEINE Mode GmbH, www.madeleine.de
"I didn't have access to cost-effective online job portals with a powerful reach. It was frustrating and costly. What's more, our job ad design was always rather inflexible because we weren't able to react quickly to the market. Doing the layout and text in-house and incurring the personnel costs for that work was expensive. So, I looked for a partner and found KÖNIGSTEINER. These days, when I want to post an ad with a job title, I place the order and within a short time I receive a full job ad including text and job description as well as a preselection of suitable platforms. It's usually fast and uncomplicated. The collaboration with our personal contact, Ms. Rohde, is especially refreshing. Uncomplicated and dependable. The changed perception of traditional HR marketing at our company was a quick win."
Bastian Schatz
HR Director, Meteor GmbH
"The KÖNIGSTEINER AGENCY is an expert partner for us when we need support in selecting the right job portals. KÖNIGSTEINER also proactively shows us innovative opportunities for recruiting that reflect current trends in the job market. We can rely on profitable support with ongoing developments in the job advertising field."
Stefanie Happach
Junior HR Manager International/HR Development, ZARGES GmbH
"Every job portal thinks they're the best. The many well-meaning sales calls, different access data everywhere, countless new providers, and much more – it all costs time. Who wants to maintain an overview? I need the time for my staff. The KÖNIGSTEINER AGENCY takes a lot of work off my plate and I get honest feedback to my job ad texts as well as fair offers. When I'm at my wits' end, KÖNIGSTEINER is there with expert knowledge, heart, and mind to help me along – a true HR sparring partner that I don't want to do without. Occasional laughs are thrown in for free – we all have to show our human side from time to time."
Felix Hegmann
Director Human Resources/Authorized Representative, implantcast GmbH
We work hand-in-hand with the most popular job portals and job market providers!
Our core competencies in recruiting
As one of Germany's largest and most experienced personnel marketing agencies, KÖNIGSTEINER delivers a complete recruiting and personnel marketing solution from a single source.
Job advertisements
and portals
We support you in posting job advertisements both online and in print. We're very well connected nationally and internationally. We maintain many relationships with online job portals and print media – and we offer you many years of experience in this area.
Programmatic
job advertising
With our help and programmatic job advertising, you reach the right candidates at the right time. We help you define the target group, create the job ad, and optimize it continually. In addition, we make regular reporting available to you so you can always keep an eye on your job advertisements.
The focus on social media is also growing in the recruiting field. Young target groups in particular use social media every day and can be effectively approached this way.
To approach the right candidates for you, we help you define the target group and create, post, and deliver the advertising materials. We also offer you ongoing optimization of the ad as well as regular reporting.
To lead your HR mission to success, we also support you with creating search campaigns. These days it's nearly impossible to place your website at the top of search engine results pages – on Google, for example – by only deploying search engine optimization on your website.
That's why we recommend campaigns in the form of Google Ads. We conduct keyword research for you and take over creating and posting your advertising material. We also deliver ongoing optimization of job ads and regular reports for search campaigns.